Contest Description
Alan Tudyk, star of "Firefly", "Serenity", and the soon-to-be released "Rogue One: A Star Wars Story", is launching his own writing contest for his latest web series "Con Man"! The winner of the contest will have the first chapter read by Alan himself in a video personally addressed to the author!

Put on your fanfiction hats and get inspired by Firefly, Serenity, or Alan's latest show, 'Con Man'.

Start writing already, so you can submit as early as you can!

Watch Con Man on Vimeo


Submission Period: Feb 3rd - Mar 2nd
Voting Period: Feb 3rd - Mar 9th
(Note: Submissions can only be posted from a computer)
There are no submission fees, anyone is free to participate, no purchase necessary
We accept submissions from all over the world, but only in English language
The submission will start on 3rd of February and will end on 2nd of March
Submission only trough the Inkitt-Con Man contest website
Voting starts at contest launch and closes on 9th of March
Alan Tudyk will pick the winner within two weeks after voting closes. The winner will be announced 23rd of March
Only Con Man, Spectrum and Firefly fan fiction stories may be entered
There is no minimum word count
Multiple entries are allowed
All stories must be rated appropriately by their authors
Before submitting a story be sure to check our guidelines page to ensure that you comply with all of our publication rules
The winners will be determined through public voting, the first three win and go into a separate round, Alan Tudyk will determine the best story out of these three
The odds of winning are dependent of number of entries, votes accumulated, and Alan Tudyk's taste in fan fiction.
The winners will be announced on Inkitt.com, on social media, and by email to all participants
All prizes will be awarded. The prizes will be awarded to the first three places
Approximate retail value of all the prizes is $100
Sponsors and Promoters of this contest: Inkitt GmbH, Potsdamer Straße 63 11-13, 10785 Berlin and Redbear Films - Los Angeles, 15760 Ventura Blvd., Suite 1040 Encino, CA 91436
Prizes for Winners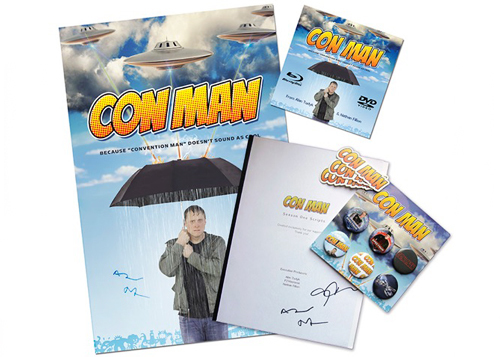 1st Place
Alan Tudyk will record himself reading one chapter of the winning fan fiction personally addressed to the winner. The winner will also receive a poster and a copy of a Con Man Script signed by Alan Tudyk as part of the winnings on the site..
Golden badge on the author's profile
2nd Place
Package of fun items that include a Con Man DVD/BluRay, Con Man Buttons, and Con Man Stickers.
Silver badge on the author's profile
3rd Place
Spectrum comic-style profile picture and stickers.
Bronze badge on the author's profile
Top 10%
All Top 10% participants receive a "Top 10%" badge to their profile
Submit Story