Contest Description
Win a publishing offer from Inkitt! No submission fees!

Submit your finished novel, 40,000 words or more – no fan fiction, no other limitations on genre! It's time for you to bring your manuscript into the light and show it off to the world. We are looking for tomorrow's best-sellers!

The "Grand Novel Contest Winner" is going to be determined by Inkitt based on reader engagement, the winner of the "Readers Choice Award" will be determined by the vote count.


Terms
By entering the contest authors will retain all rights to their submitted works.
The contest winner will get a publishing offer with the following terms:

The author receives 85% of net earnings if the license is sold to an A-list publisher (e.g. Penguin Random House, Simon & Schuster, MacMillan or HarperCollins)
In case the A-list publishers don't pick it up, Inkitt will publish the novel and the author will receive 50% of Inkitt's net earnings.

Submission Period: March 7th - June 7th
Voting Period: March 7th - June 14th
(Note: Submissions can only be posted from a computer)
Accepting finished novels with minimum 40,000 words of any genre
You have to own all rights in order to participate. Only original novels are accepted.
Previously self-published books are accepted as well
Multiple entries are allowed
We accept submissions from all over the world, but only in the English language
There are no submission fees, anyone is free to participate, no purchase necessary
Voting is only one factor of the evaluation process, all submissions will be considered
All stories must be rated appropriately by their authors
Before submitting a story, be sure to check our guidelines page to ensure that you comply with all of our publication rules
Miscellaneous
In order to submit a novel, authors must make it publicly available on Inkitt's Grand Novel Contest website, by pasting the text into the story editor
The odds of winning are dependent on number of entries, votes accumulated and the engagement of your readers
The winners will be announced on Inkitt.com, on social media, and by email to all participants
All prizes will be awarded, as specified in the Prizes Description below
Sponsors and Promoters of this contest: Inkitt GmbH, Potsdamer Straße 63 11-13, 10785 Berlin, Germany
Prizes for Winners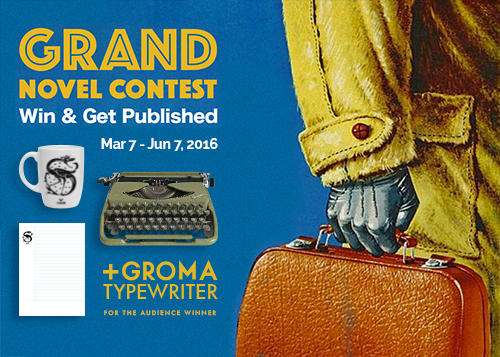 Grand Novel Contest Winner
A publishing offer from Inkitt (including cover design and editing), a custom Inkitt coffee mug and a custom Inkitt notepad.
Readers Choice Award
A vintage portable Groma Hummingbird mechanical typewriter, a custom Inkitt coffee mug, a custom Inkitt notepad and a silver badge on your profile.
Top 10%
All Top 10% participants receive a "Top 10%" badge on their profile
Submit Story