~ i ~
[historical fantasy, metaphysical romance, piracy]
Available Here on Inkitt!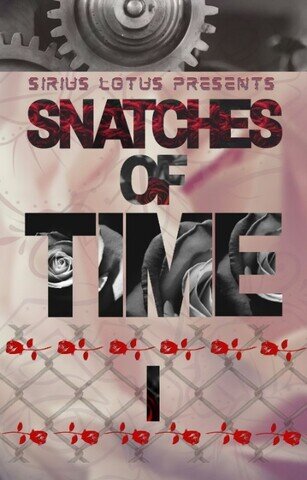 Snatches of Time i, is about a boss lady who's grown bored of her socialite life. Has she bitten off more than she can chew?
---
He lured me in with sweet words of forbidden delights, and old thoughts I'd entertained, but that was after I acquired his services.
I'd hired him when my chef vouched for his work ethic, and kept him on when he lived up to his word. My soirées had found the attention of nobles for the first time in my whole career. His attractiveness didn't hurt, either.
For the longest time it was only insinuations, then just after completing his year on my books, he dared brush his fingers against the back of my neck.
I let him.
Encouraged him, even, until his hands were more than just occasional whispers of touch sprinkled throughout my days. He made the excuse of massaging the stiffness of my shoulders and neck, and we got a weekly thing going with a few others who thought it would be a grand idea to learn how to relax. We cracked some spines, in a good way.
That didn't stop us from finding other places to meet.
Within the week of his meaningful strokes, I'd allowed him to put those fingers where I ached most.
His mouth soon followed.
I wasn't supposed to, I know.
Of late, I'd been desiring something more than his teasing caresses, the threat or promise (I couldn't decide) that his fingers would make, as he consumed my nectar. It was getting harder to turn him away, to keep that final boundary every time we found ourselves alone again.
The couple of times I'd had sex in the past, I was left burning for more, afraid of telling my tired lovers I was not finished with my pleasure. It should have been enough.
I fought my flush with a fan, and a select few open windows. We'd hit a high number this morning, I counted.
All my time after that had been consumed with the last of the details, and shouting directions everywhere, and maybe I may have been a bit harsh, but I was very particular about all my arrangements. The food, the decor, the music! It was one of the main reasons I was summoned to create grand elegant statements without uttering a word.
He'd taken care to press his suit before everyone arrived, but he seemed to fill it out too well for the creases to really show, just like he pressed his lips to my ear so he could fill my thoughts with the things he'd been thinking about doing to me. I leaned back against the desk, his hands smoothing up my back as he closed the space between us.
He slowly brushed his lips across my still nude ones before taking my breath away with the way our mouths moved against each other. That luscious kiss, silky with my own scent, made my sex clench.
My fingertips held his jaw, afraid to dig into his hair and ruin the style. His lips moved lower than my mouth, trailing over the strong pulse in my neck, tongue swirling along my collarbone, to press a kiss over my cushioned heart.
His tongue delved into the line between my tits, just once, as we heard carriages outside the study window, and footsteps rushing towards us. I sighed softly, goosebumps tightening my nipples almost painfully behind the fabric.
He winked and walked off before we could get caught...