One-Shot
The building was not one of the prettiest, 'A little too rectangular perhaps..' Jane thought with a thoughtful hum, earning a small suspicious glance from his Lisbon walking besides him.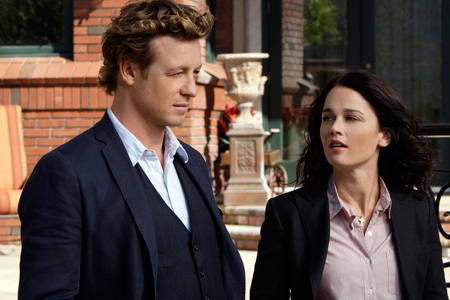 He locked his gaze with hers and smiled slightly, making her shake her head with a grin.
They both entered the building at the same time, stepping inside the building. 'Good air conditioning.' Jane noted down, taking a deep breath of the fresh cool air as Lisbon directed herself towards the reception's desk, not even noticing that Jane stayed behind.
As he heard her start to speak, he slowly walked up to the desk besides her.
"Hello Miss, I'm Agent Teresa Lisbon from the FBI, this is Patrick Jane." Lisbon said, motioning towards Jane as he nodded towards the receptionist with his hands behind his back. "We would like to talk to Chris Francis," Lisbon said, repeating an all too familiar sentence just as at their earlier twelve years at the CBI, making Jane smile slightly at the memories they all shared.
The female receptionist looked up, interest glinting in her eye as she glanced at Lisbon quickly, before allowing her gaze to fall upon the vest wearing blonde.
"The one and only Patrick Jane?" the receptionist asked, smiling slightly, yet another fan it seemed.
The girl brushed her dark blonde hair behind her ear, showing off her neck in a manner to try and get Jane attracted, but those things didn't send him off balance for a second.
Jane nodded in agreement.
"The one and only, right before your eyes." he confirmed with a small grin.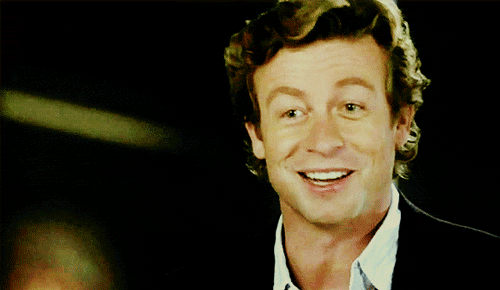 The receptionist smiled at him, almost ignoring Lisbon completely. Her tries to show-off discreetly barely got to Jane, he only had his eyes for one special woman.
"Alright Agents, just wait here a few minutes." she said, Lisbon rolling her eyes as she noticed how the receptionist barely spared her a glance. Not like Lisbon would like attention but she preferred herself being in focus than having that girl check out her Jane.
The pair from the FBI had to wait a few minutes until a dark brown haired male came walking down the hall, one could be fooled that he was a raven if one didn't look close up. He was wearing simple jeans, yet expensive as one could see they were of the brand Gucci.
"Fancy.." Jane mumbled with a roll of his eyes.
Over that, the slim young man wore a red shirt and a black yet brown toned leather jacket that seemed to look old on purpose. 'Fashion these days', Jane thought, keeping his smirk hidden.
"I'm Chris, the person you wanted to talk to, Agent Lisbon, Mr. Jane. How are you doing?"
Before Lisbon had time to reply with her familiar professional, 'We're alright, thank you.' Jane shook his head, showing his hand in a 'stop' kind of way, making Chris raise an eyebrow.
"Don't ask that." the dirty blonde FBI consultant said, bored as he looked into Chris dark and confused eyes.
"Why-"
"Only people with manners ask that." Jane retorted with a small mocking smile.
"I have manners, I'm respectful,"
The small twitch of the corner of Chris' mouth made it obvious to Jane that he was internally smirking.
"No, no you're not. You don't have any manners, stop pretending, please!" Jane said, throwing his head back dramatically as he said 'please', wanting to make a scene to see the amusing faces of everyone around. "Everybody already knows that you're just a stupid kid wanting attention." he finished, pointing at Chris with a small smirk.
He knew that his words had without doubt hit Chris' ego deeply, maybe even hurting him if the consultant was lucky.
"Jane-" Lisbon tried to cut into the argument.
"No, somebody's gotta tell him!" Jane whined, shrugging as he turned back to face the brunette who was now looking slightly offended, his posture now seeming more hostile.
"You're just some dumb person in the crowd of silly people you call friends. Next time you're about to ask someone how they're doing, think twice and ask yourself: 'Do I really care or am I just going to pretend to be nice even though I'm just an ignorant ass and poor excuse of a gentleman in the end?' Then and only then will you actually be able to start regaining some of your manners and the respect you falsely claim to have." Jane said, sounding like a teacher lecturing a student, nodding proudly as he smiled for himself, placing his hands in his pockets.
"Let's go Jane." Lisbon grumbled, trying to pull at Jane's arm. They could question Chris later, it wasn't too urgent. Besides, the FBI would not like to be sued anytime soon on Jane's behalf again. Jane reluctantly followed a few steps before slipping his arm out of her hold, running back to the people silently watching the scene.
He smiled with mischief as he got close to one of the other young males.
"That's girl in the back, that one shyly looking at you all the time," he started, pointing at a ginger girl with cute freckles as she giggled once she saw Jane and the guy looking at her. "Ah, yes. She likes you, if you like her back, you better tell her. If you don't, well.. Just don't crush her heart."
The man seemed to be taken off guard as he barely had any time to reply to the blonde male's observation.
"Janeee!" Lisbon whined, tilting her head with a pained frown.
"Coming, Lisbon. I'm coming." he replied with a small smile, waving goodbye to the silent Chris Francis and the boy that had been standing behind him, who was now speaking with the red headed girl in the back, waving back to Jane thankfully.
"Just so you know, Pretty-Boy, you look speechless." Jane whispered with a smirk at Chris, placing a hand on Lisbon's lower back as they left the building together, rather happy at how he'd accomplished to piss the man off.
With a happy sigh from Jane, and a rather annoyed huff from Lisbon, the consultant could gladly draw the conclusion that this would be another great day at work.