Abducted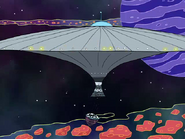 I had tried to warn them, but they wouldn't listen. They thought it was all a dream, but I knew it was real. They only believed me once it was too late. We had woke the next morning to see we were being carried through space.
Not all of them were bad. One even tried to help us, saying he himself was fed up with the ship. And he was the one we all least expected to even be an alien. But enough about that.
Here's what happened.
-------
"DUDE, WHAT'S GOING ON?!"
I woke up to that scream. I tumbled out of bed, getting tangled up in my blankets. Sarah burst in, panic evident in her face. She grabbed my hand and, with me still wearing pajamas, dragged me out.
"Hurry, Jimmy!" Sarah cried.
"What's wrong, Sarah?" I asked, frowning, even though I was pretty sure I knew. My dream had been clear enough, I knew it would come true.
And it did.
The cul-de-sac was being carried through space by an 'Unidentified Flying Object' or a UFO.
"It's the aliens!" Jonny cried.
"Woah, fluffy was right," Kevin muttered, shocked.
"I tried to warn you all, but you wouldn't listen!" I yelled.
"ALIENS HAVE STOLEN THE CUL-DE-SAC!" Ed cried fearfully.
The last thing I remember was a green gas filling up the cul-de-sac before I blacked out.
-------
I woke up in what looked like a cell, chains around my ankles. I could barely reach the walls.
"Sarah?!" I yelled, "Kevin? Double D? ANYONE?!"
I heard a faint moaning from my left. I looked over at the wall. Even though I couldn't see through it, I knew who was over there.
"Jimmy?" Sarah said quietly, "W-where are we?"
"I think we're on the space ship," I said, looking out the bars. The chains chaffed my ankles as I tried to pull against them. I winced and took a step back.
"Hey, fluffy?" I heard Kevin to my right.
"Kevin?" I said, scooting over to the right, "You're here?"
"We're all here," Jonny said. He sounded further to my right.
"Jonny?" I said. I peered closer at the shapes inside the other cells, "Nazz? Ed, Double D, Eddy? Bella?"
"Now that we've done roll call," Eddy rolled his eyes. Edd noticed something and looked around.
"Um, where's Rolf?" He asked.
"Rolf?" Bella spoke, looking around as best she could.
"He's not here," Sarah said.
"Oh no, the aliens took Rolf to do their hideous experiments on!" Ed cried fearfully.
"Hello, neighborhood nothings!" A familiar voice said cheerfully.
"Rolf?" Kevin said, looking out the bars of the cell. At least it LOOKED like Rolf. But whatever this was wasn't the foreign farm boy we knew.
It had Rolf's clothes and face, but his head was a purple squid, the one he had been wearing yesterday. But instead of a hat, like I said, it WAS his head! He was holding a wooden Sheppard's hook.
"Rolf, what happened to you?" I asked, shocked.
"Did the aliens turn you into one of them?!" Ed cried.
"Silly Ed-boy!" Rolf waved him off, "Rolf was with his family!"
"Wait, so you mean, you've been an alien this whole time?" Nazz asked.
"Yes, go-go bucket Nazz girl!" Rolf said, "Rolf and his family were sent to examine your humble cul-de-sac to see if it was fit for abduction."
"But why, Rolf?" Edd asked, "We accepted you. We made you feel welcome."
"Not Rolf's fault," Rolf shrugged, "Rolf received orders from the Great Sheppard Squid. Rolf truly did not want to inform the Great Sheppard Squid about Rolf's friends, but if he didn't, he would banish Rolf to the...cupboard."
Rolf shuddered.
"What's so bad about a stupid cupboard that you couldn't spare the lives of your friends?!" Kevin asked angrily.
"It is no simple cupboard, Kevin-boy," Rolf said, "The cupboard is a big dark room. One gets very little food for the time he's there. It's very scary."
Two other squid-people like Rolf walked up.
"Quit wasting time," One said, "Hurry up."
"Yes, Nano," Rolf said. The one Rolf had called Nano pulled out a ring of keys. The three of them each took three keys and unlocked our cells. Each one held the chains of three kids. Rolf held me, Nazz, and Ed. 'Nano' held Edd, Kevin, and Sarah. The other one, which I assumed was 'Nana' held Eddy, Bella, and Jonny. We started moving in three different directions, then I realized.
They were splitting us up!
"Sarah!" I cried, trying to reach for her, but Rolf had a strong grip.
"Jimmy!" She cried back, trying to kick the squid alien holding her. She left my sight as each group left the room, heading to different areas on the ship.