Preview
*You'd think they were like Heaven and Hell... But, they were a product of the 2.*
---
Hesitantly, I open the door.
I swear if it's penny-wise casually sitting on the sink with his creepy smile, I will jump out the windo—
Oh... That's not penny-wise.
"Hi?" I whisper, observing Atticus's state, and I raise my eyebrows in confusion.
He's... Sitting fully clothed... In a bathtub... Filling up with water... With his lips... resting a dried out cigarette.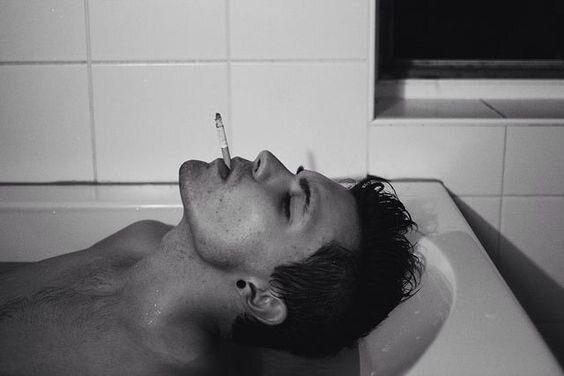 Well, that's not how you have a bath...
"Fuck off Aurora." He snaps, laying his head back and blows out a puff of smoke, poisoning the air.
Fuck off?
I wish I could, Atticus.
I lean my head against the wall. "Everyone's downstairs... Won't you join?" I ask, slowly turning off the tap, which is surprisingly cold as ice, and I sit on the edge of the bath, staring at him.
Aurora... You didn't think to ask, the clearly unstable boy, how he was first?
Atticus lets out a harsh sigh and whispers, ever so gently, "Honestly... I'd rather stick this cigarette in every part of my skin. Before wrapping my hands around my throat, until I can just about breathe, and ending myself, by drowning in this water instead." With his eyes starting to close and seeming as if he's dissolving into thin air.
I stare at him in silence, with only a single thought running through my head.
He'd really do all that over a peaceful dinner with his family?
"Atticus... I'm here if you need me... Or, even when you don't need me... Even, when you just want me to be there in silence, or to be the only one talking." I state empily, deciding to sit next to him in this cold water, now engulfing us both and I sigh, feeling his arms instantly wrap around me as if he was a heated blanket. "Hopefully, we might be able to stop each other from drowning in our overwhelming sorrows." I whisper into his skin.
As I know you'd do the same, Atticus.
---
*His surname was Knight. Hers was Star. He filled the earth with darkness. And she with light.*