Contest Description
The winning author will get a publishing offer from Inkitt!

Spread the love and share your original tales of romance today! As always, there is no entry fee. Word Limit: 40,000 words and over (novel length). The stories that place in the top 10% of the "most voted" and "most popular" categories get the opportunity to be picked by Inkitt staff for 1st, 2nd and 3rd place prizes.


Submission Period: Jan 12th - Feb 23rd
Voting Period: Jan 12th - Feb 29th
Submit as soon as you can, to have enough time for votes to come in!
General publishing terms: 50% of Inkitt's net earnings
Authors will retain all rights to works submitted to the contest.
(Note: Submissions can only be posted from a computer)
Only original fiction novels are accepted. You have to own all rights in order to participate.
Old and self-published works are acceptable.
Multiple entries are allowed
All stories must be rated appropriately by their authors.
Before submitting a story be sure to check our guidelines page to ensure that you comply with all of our publication rules.
Read more about Inkitt's publishing approach!
Prizes for Winners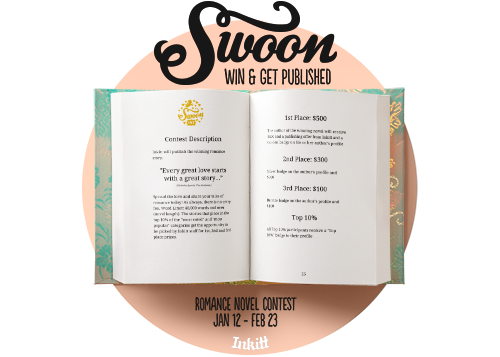 1st Place
The winning novel will get $500 and a publishing offer!
Golden badge on the author's profile
2nd Place
Silver badge on the author's profile and $300
3rd Place
Bronze badge on the author's profile and $100
Top 10%
All Top 10% participants receive a "Top 10%" badge to their profile
Submit Story